Welcome at STAUFF, Mikhail Murmuridis
Despite the stressful times, Mikhail Murmuridis, the new person in charge of STAUFF Russia, took the time for an interview with the STAUFF Blog
Quick Portrait
Name Mikhail Murmuridis
Age 45 years old 
Nationality Russian and Greek 
Born and raised Pyatigorsk, a small town in the South of Russia
Current residence since 2002 Moscow, the federal capital and largest city of Russia.
Random fact Mikhail loves the drive of the big city though he misses nature and mountains 
Favorite holiday destination Corfu Island in Greece
Favorite business book An Everyone Culture: Becoming a Deliberately Developmental Organization – Robert Kegan and Lisa Laskow Lahey
Favorite quote The goal is not to be perfect by the end. The goal is to be better today. – Simon Sinek
First of all thank you very much for taking the time to talk us in these very busy days for you, and for giving the readers of the STAUFF Blog the opportunity to get to know you a little better.
You just recently joined STAUFF from a different business. What motivated you to change the direction?
In the past 15 years, I was working for a Dutch company – a world leading supplier of material handling solutions – in various different positions in project management and sales.
Of course, STAUFF business has its peculiarities which I am discovering daily. But I do like the challenge, it helps me to develop new competences. And my colleagues – both locally and worldwide – are supporting me with all the available knowledge.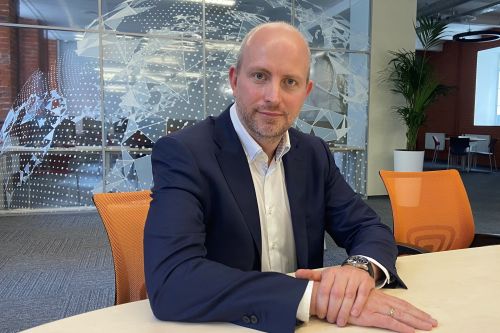 In your opinion, what makes STAUFF stand out among other suppliers?
I would like to put it in two words: Top quality! And this relates to both the products and the services which we as STAUFF are providing. I am a strong believer that nowadays customers are not only buying a product or service. They also buy the approach, the attitude. Predictability and reliability of a business partner – that is equally important together with the top-quality product. STAUFF is fully committed to these principles.
STAUFF Russia has a successful history. What value do you think you will contribute to the Russian business and organisation?
During the past years, STAUFF Russia demonstrated a very stable development curve. One of the factors that led to this success is the local team, which was raised and developed over of the years. There are people that are with the company from the very beginning of its operations in Russia in 2005.
As they say, the most sustainable competitive weapon is the best-engaged team. Team is and will be my focus. Supporting the team daily, creating the safe environment to ensure the proper business fundamental to sustain and open new horizons.
I strongly believe in collaboration and continuous improvement. I am convinced that by helping each other we can grow and become better. Here I mean helping your colleague, business partner, customer. I'm happy to see that this business philosophy has already been established in STAUFF Russia and look forward to preserving it for the next years.
How would you describe your management style?
Talking about the management style my main keyword is always 'transparency'. I believe it is very crucial for any business today to be transparent to its customers, partners, and employees alike. Lean and clear tools, instant feedback, predictability, and safe base – those are the pillars of my management approach.
How do you see STAUFF Russia evolving in the next years?
What business objectives are you pursuing?
Recent world economy developments demonstrated that companies are to be flexible to the changing business environment. One of my goals is to make sure we can evolve as the world around us does. What will be in focus? Industries where we as STAUFF are less present, key account approach and long-term business relationships to ensure predictable profitable growth.
Once again, the STAUFF Blog likes to thank you very much for taking the time to answer these questions and, on behalf of the entire STAUFF team, wishes you every success in your new role.