Quick as a flash
You can use the central search field of the STAUFF Digital Platform to find STAUFF products by entering STAUFF order designations, STAUFF material numbers or other descriptions
Did you already know? The central search field of the STAUFF Digital Platform allows you to find STAUFF products not only by entering STAUFF material designations, STAUFF material numbers or other descriptions.
The search function also allows you to enter common ordering codes and designations of countless international competitors and alternative suppliers and cross-reference these to the most suitable STAUFF products.
This feature was recently further expanded and adapted to the constantly growing needs and requirements of users.
Search results that match the search entry 100 percent are no longer only displayed at the top of the results list, but are now also clearly highlighted as direct hits by a green frame.
Within the search results, the names of the respective competitors or alternative providers are also indicated in plain text, which provides direct conclusions about a successful recoding.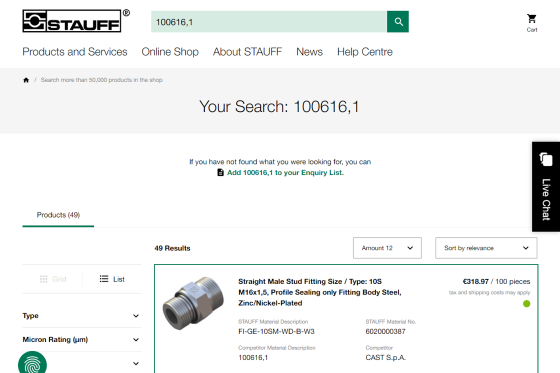 The search with integrated cross-reference functuality is not limited to individual STAUFF product groups. It makes no difference whether you are looking for a pipe clamp, a hydraulic filter, a quick release coupling or any other component from the STAUFF product range. It goes without saying that the STAUFF database, which already contains around 250,000 competitors' designations, is constantly being expanded and new entries added.
The following applies to all cross-references: STAUFF always endeavours to offer you STAUFF alternatives in form, fit and function for the product you are looking for.
The cross-references are primarily generated on the basis of information from publicly available documents (product catalogues, online shops, etc.) from other suppliers on the market, which are carefully checked. In many cases, these findings are verified by technical comparisons of the actual products, e.g. in the form of performance and load tests at the STAUFF Technology Centre.
Nevertheless, STAUFF cannot accept any responsibility or liability for the validity and correctness of the resulting interchange recommendations. Please consider them only as non-binding information which does not exempt you from your own testing of the products for conformity and suitability for the intended purposes. Thank you.
Not found what you were looking for?
As a registered user, you can use the Enquiry List function to conveniently manage enquiries for products that cannot be interchanged directly online online and conveniently transmit them to STAUFF.
Using the Quick Order function, you even have the option of uploading extensive lists with up to 300 individual line items directly for ordering.