Ongoing Optimisation
How a seemingly inconspicuous adaptation of the design contributes significantly to simplifying assembly and increasing strength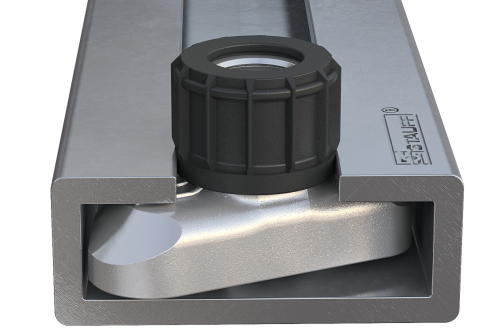 To meet the growing customer demand for simplified assembly and disassembly as well as increased strength, the rail nuts were recently subjected to further optimization, As the result, their design was slightly adapted.
The lower section was lightly chamfered on both ends, so that the rail nuts can now be screwed in further to create additional contact surface area with the mounting rail.
The grooves on the top promote a stronger attachment of the rail nuts in the mounting rail.
The interaction of chamfers and grooves ensures that the rail nuts remain in position even during temporary dismounting of clamps and no longer fall or slide out of the mounting rail as before.
The geometry of the rail nut in the upper section was adapted so that the plastic cap, which ensures secure seating of the clamp body for vertical and overhead installation, now no longer slides from the steel part and gets lost as easily.
Product Selection in the STAUFF Online Shop
Selection of hexagon rail Nuts type SM, mounting rails type TS as well as pipe, tube and hose clamp assemblies in the Standard Series according to DIN 3015 (part 1) in the STAUFF Online Shop