Information Center for STAUFF ACT Clamps
Welcome and thank you very much for your interest in STAUFF ACT Clamps.
With their special design and material features, STAUFF ACT Clamps will help you to significantly reduce crevice corrosion on stainless steel pipework, contribute to a longer asset life, reduce shutdown risk and offer an eco-friendly installation.
In this online information center for STAUFF ACT Clamps you will find material and information that will help you to start using STAUFF ACT Clamps in your applications.
If you have any further questions or requirements, you can also use this page to make contact with STAUFF.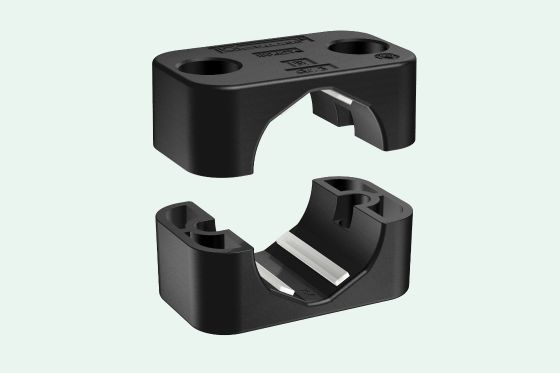 STAUFF Online Page-Flip Catalogue
Navigate and search content, forward via email, print, and download in PDF format
STAUFF Product Catalogue
Download entire STAUFF product catalogue in PDF format
Text Elements for Specifications
In order to support designers and system planners with the preparation of specifications for pipe and tube clamping systems, STAUFF provides the following text elements as a description of the minimum performance characteristics and requirements for suita
Text Elements for Specifications
STAUFF ACT Clamp Bodies
Small bore tubing assemblies up to 42 mm / 1 1/2 inch outside diameter shall be supported by block-type pipe clamps. The clamps shall be dimensionally in accordance with the DIN 3015 standard and suitable for single, twin and multi-level tube installations. Block-type clamps shall also be suitable for tray, plate or channel mounting.
To prevent the accumulation of seawater and the formation of crevice corrosion, the clamp body shall have drainage capabilities between the body and tube by utilizing integrated anti-corrosion strips that form part of the original clamp body design, thus allowing the free flow of seawater. Clamp bodies shall at no point be in direct contact with the tube material being supported.
STAUFF ACT Mounting Hardware
Evidence must be given that stainless steel 316 support accessories used for the fixing of clamps to structure have been subject to a cleaning process or are manufactured in a clean environment thereby removing foreign particles. It is required that evidence be provded at the time of acceptance of improved performance as a direct result of the cleaning process.
In order to ensure good performance for asset integrity, the selected product shall demonstrate its suitability by meeting and/or exceeding the minimum test standards in accordance with test standard 1104000110.
Assembly Instruction for STAUFF ACT Clamps
Contact STAUFF for Further Support