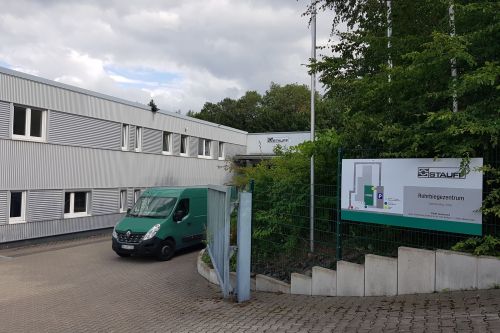 Germany
Production Site Meinerzhagen Rottland
Walter Stauffenberg GmbH & Co. KG
Am Rottland 7
58540 Meinerzhagen
The move of the STAUFF production division for machined and assembled tubes and assemblies for machine and vehicle manufacturing as well as soldered fasteners and distributors for hydraulic systems to the new site on the Rottland industrial estate in Meinerzhagen was successfully completed in August. 
The factory focuses on the automatically controlled and monitored bending of seamless precision tubes made of standard steel (Zistaplex®, Zista® Seal, zinc plated, phosphate coated, untreated), stainless steel, copper and various special materials with lengths up to 6 metres. A large variety a common metric tube diameters and wall thicknesses are available for this.
In addition to correct storage and handling, the processing of tubes also focuses on optimum preparation for cutting, deburring and cleaning.
The following additional processing steps can be offered if required:
Automatically controlled and monitored assembly of cutting rings and union nuts 
Tube end forming with Stauff Form and other common systems
Inductive soldering, Cu hard soldering as well as WIG, MIG and MAG for welding non-positive connections
Pre-assembly of other system components (clamps, fittings, flanges, valves, distributors, etc.)
Combination of several tubes and other system components to form complex assemblies and modules
Cleaning to achieve specific cleanliness levels and specifications
Sealing and protecting the tube ends and other connections.
The relocation of the manufacturing division from the Meinerzhagen Neugrünenthal factory had become necessary due to the positive development and the growth plans derived from this.