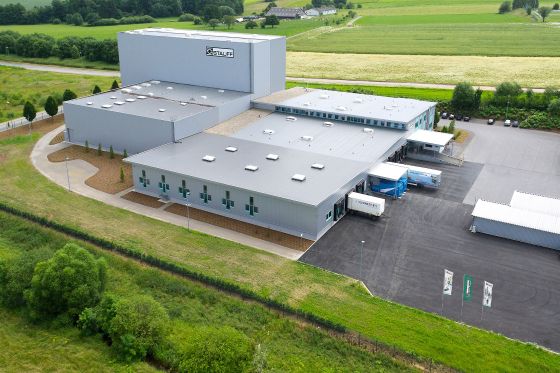 Germany
Logistics Centre Neuenrade Küntrop
Walter Stauffenberg GmbH & Co. KG
Wasserburgstraße 35
58809 Neuenrade
Without a doubt, the automated STAUFF Logistics Centre at the Neuenrade Küntrop location plays a crucial role in supplying customers in Germany and abroad.
The logistics centre, which was opened in 2002 and ast considerably expanded in 2018, features an automatic small-parts storage for more than 55,000 plastic containers as well as an automatic high-bay warehouse for more than 10,500 Euro pallets or pallet cages. A manual storage section, e.g. for large goods, completes the logistical options at the site.
This ensures the shortest possible order turnaround times with maximum capacity and flexibility with respect to delivery quality and adherence to delivery dates. 
At peak times, over 1,000 tonnes of material in the form of approximately 9,000 individual deliveries are preapared and sent out each month.
In addition to picking and packing at twelve workstations optimised for this purpose, the Neuenrade Küntrop site also handles the finishing and assembly of selected components. The dispatch office and the central customs office are also located here.
The logistics centre also creates the basis for the use of delivery models individually coordinated with the customers:
Optimally selected supply schedules and volumes
Individual packaging units
Customer-specific marking and signing of parts, packaging and load carriers
Warehousing of customised components
Kanban logistics
Just-in-time delivery of components, systems, units and modules to the assembly lines of the customers or their suppliers by using specially designed load carriers)
Impressions from the Logistics Centre