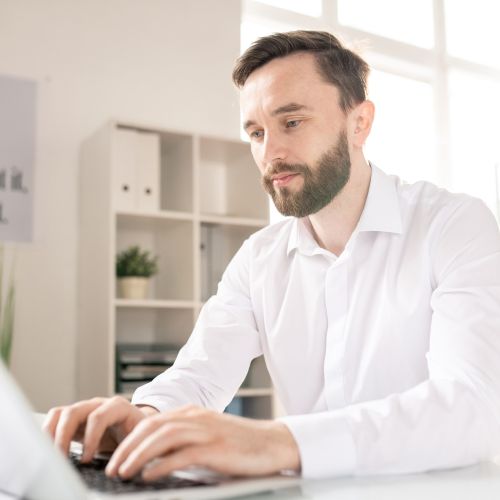 Product Specialist for Pipe, Tube and Hose Connectors
Any questions about the products on this page? Get in touch now!
Continuous investments in the STAUFF Technology Centre: In late August 2020, STAUFF Germany successfully commissioned another state-of-the-art test bench for impulse pressure testing of hydraulic hoses at the Werdohl Ehrenfeld site.
The universal system from a German quality manufacturer allows hydrostatic testing as per ISO 1402 as well as impulse pressure testing of assembled hoses without bending as per ISO 6803, featuring an impressively high test pressure of up to 1500 bar. Up to 6 specimen can be tested simultaneously in the test chamber.
For testing without bending, a load continuously alternating between almost pressure-free and a defined impulse pressure is applied to the hoses (usually 20 to 33 per cent above the operating pressure) – with a load change frequency of 1 ±0,25 Hz. Relevant test parameters such as impulse pressure, number of load changes, frequency and temperature differ depending on the hose type and manufacturer The crucial information comes from the number of load changes at the end of the test or when the hose fails (from fine leaks on the transition from the hose to the hose fitting, pinhole leaks, burst hose, hose fitting torn off, etc.). The resulting value provides information about the quality, durability and resistance of assembled hoses. This standard does not stipulate a bending load, so that the hoses are tested under conditions which do not necessarily reflect practical application.
At its in-house Technology Centre, STAUFF additionally has the option of testing lines with alternating bending using the "omega test" as per ISO 6802 and the "half-omega test" as per ISO 8032. For this test, a hose is subjected to alternating bending stress which is precisely defined in the respective standard – again also with precisely defined alternating pressure loads. This verifies the durability of the hose as well as the tightness of the connecting elements under realistic conditions with dynamic applications.
The research laboratory in the Technology Centre at the Werdohl Ehrenfeld site, which was last extended to over 800 square metres in 2018, is the centerpiece of STAUFF's research, development and design activities.
In particular, the state-of-the-art test equipment available there plays a crucial role in the development of new, innovative products and the ongoing optimisation of existing solutions, the implementation of customer-specific test criteria and the attainment of approvals and certificates by independent institutes, organisations and authorities.
The new universal hydraulic test bench at STAUFF allows hydrostatic testing as per ISO 1402 as well as impulse pressure testing of assembled hoses without bending as per ISO 6803.
You might also be interested in the following news items: