Niclas von Seidlitz
Head of HR and first point of contact for questions regarding employment and training
Walter Stauffenberg GmbH & Co. KG was awarded the Outstanding Training Company quality seal for the ninth time in a row and therefore again rewarded for its continuous commitment to vocational training.
The data used for independent certification as an Outstanding Training Company is obtained using two tools:
In the first step, a representative of the company – generally the Head of Training or HR – answers a questionnaire or takes part in an interview in which the key figures governing training and apprenticeships are recorded. This training questionnaire covers the apprenticeship and adoption quotas, as well as the quality of training.
In the second step, the trainees and apprentices are then questioned about their personal situation in the company: they rate how good training in the company is from their point of view and how they evaluate their supervision. This involves the image of the company and general satisfaction with their employer, as well as issues, including respect, training content, remuneration, future opportunities, co-determination opportunities and workload.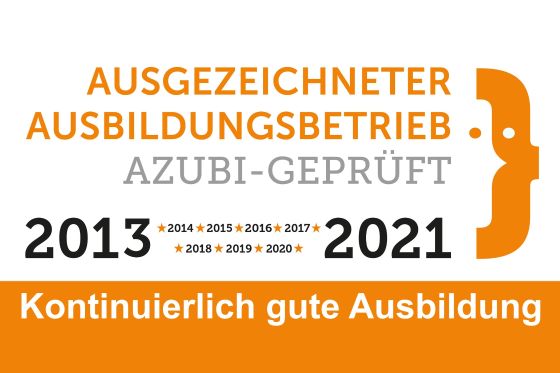 You might also be interested in the following news items: