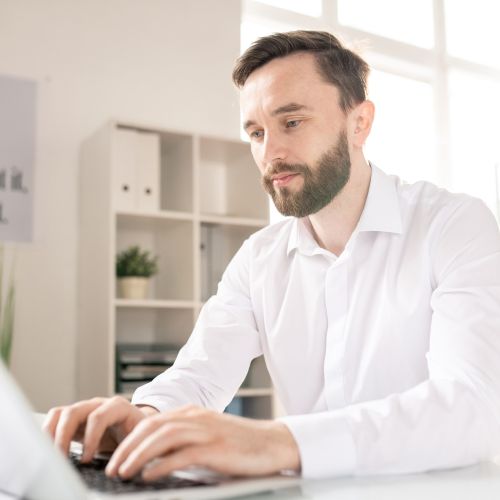 Product Specialist for Measuring and Analysis Technology
Any questions about the products on this page? Get in touch now!
STAUFF Digital Pressure Gauges with USB Connection
STAUFF presents the well-known and proven SPG-DIGI digital pressure gauges for the digital measurement and display of pressures in hydraulic machines and systems in a revised design. A new version for the measuring range -1 ... 5 bar (corresponds to -14.5 ... 72 PSI) has also been added to the range.
However, the optionally integrated USB interface and the possibility to store measured data on the devices are probably the most significant changes for the user. These turn the devices into real all-round data loggers for commissioning, servicing and maintenance of hydraulic machines and systems.
Designed for digital measurement and display of pressure in hydraulic systems, especially for oils, lubricants and water
Versions available with the following measuring ranges:

-1 … 5 bar (corresponds to -14.5 ... 72 PSI)
-1 …16 bar (corresponds to -14.5 ... 232 PSI)
0 … 100 bar (corresponds to 0 ... 1450 PSI)
0 … 400 bar (corresponds to  0 ... 5801 PSI)
0 … 600 bar (corresponds to 0 ... 8702 PSI)

Display of current measured values as well as MIN and MAX values with a precision / accuracy of 0,5 percent (typically 0,25 percent) of the measuring range / full scale value
Equipped with an internal data memory:

Resolution of up to 100 ms for short measurements
Pressure peak monitoring of 10 ms
Up to ten measurement series can be stored
Maximum measurement duration for each measurement is 24 h

Measurements are automatically stored in .csv file format and can be transferred (with no additional software required) using the integrated USB interface and the supplied mini USB cable (contained as standard in delivery) to a desktop PC or notebook
Data can be analysed with any popular spreadsheet software
Available individually or as part of a complete pressure test kit (type SMB-DIGI-USB)
Selected Digital Pressure Gauges in the Shop
STAUFF Digital Pressure Gauges SPG-DIGI-USB with numerous standard pressure ranges, with USB-connection, process connection G1/4 und calibration certificate
Relevant Categories in the Shop