Contact STAUFF Kanban
Any questions about Kanban and other topics related to sourcing and logistics with STAUFF? Get in touch now!
The STAUFF Kanban system offers an individually designed and thus precisely tailored procurement solution for specific customer requirements with maximum process, quality and supply security.
An optimal service solution for automatic replenishment is implemented, tailored to the type and range of articles, the working environment of the users/consumers and their needs. The focus is on maximum availability of the components in the right quantity, at the right place and at the right time.
A rolling container system provides STAUFF components "just-in-time" directly at the assembly site. In addition, it offers a high adjustment capability in the event of changes in requirements with maximum delivery and supply security and reduces customer-side inventories with low commitment of capital.
Basic Principle of the STAUFF Kanban System
×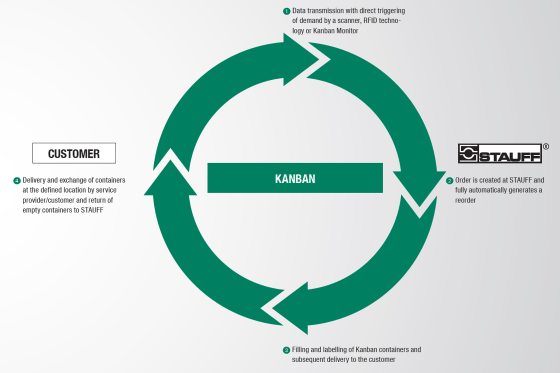 General Conditions of the STAUFF Kanban System
Equipment required
The required equipment, such as shelves, containers, scanners or RFID technology, labels etc. is provided by STAUFF. STAUFF provides its own containers in two different sizes. The containers are subject to a continuous cleaning process.
Upon agreement, the customer's existing equipment can also be integrated into the process.
Filling quantities and control circuits
Fixed fill quantities can be individually agreed and stored via control circuits. The demand is triggered either by scanning the barcodes or by automatically reading the RFID tags of empty containers with direct data transmission to STAUFF, which triggers the reordering. All control loops can be viewed and ordered in the Kanban monitor on the STAUFF digital platform.
On-time delivery
On-schedule delivery of the filled and pick-up of the empty Kanban containers takes place at the agreed transfer point or directly at the assembly line.
×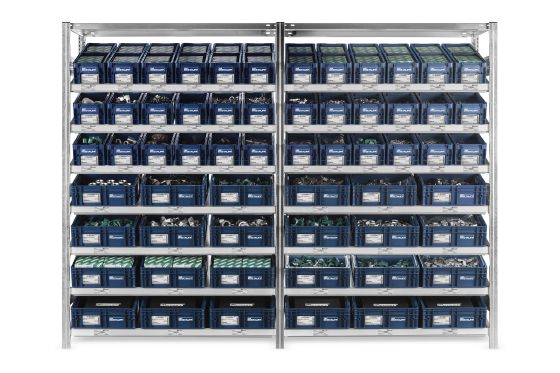 ×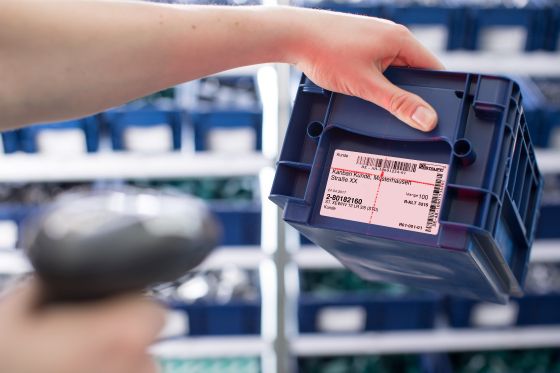 ×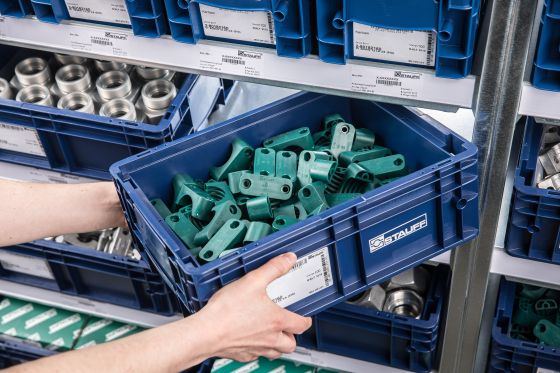 ×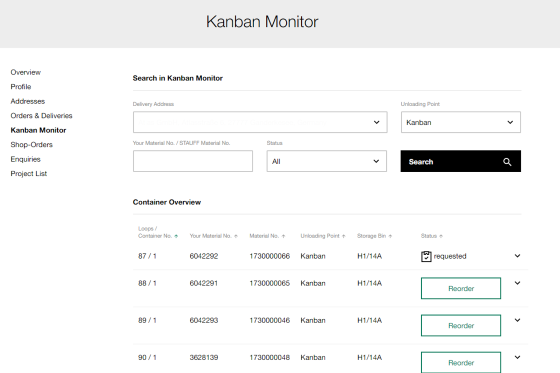 Labelling with the STAUFF Kanban System
All containers are provided with interchangeable labels and thus offer all relevant information at a glance:
Customer logo / STAUFF logo
Recipient of goods
Print date
Customer article number and customer designation
Container content
Container type and shelf location
Barcode
In addition, there is a shelf label at each storage location. This ensures easy allocation of the container to the correct shelf location. When using RFID technology, an RFID tag is also attached to the container.
×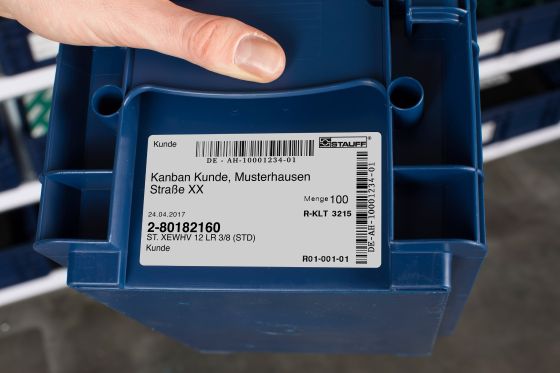 Advantages of the STAUFF Kanban system for the customer
Maximum availability of the required components in production / assembly
Selection from over 50,000 standard hydraulic and fluid power components from one manufacturer
Reduced process costs in the areas of purchasing, logistics and administration
Reduced capital commitment
Increased flexibility within your value chain
Precise control of the flow of goods
Punctual delivery through the automated STAUFF logistics centre
Personal advice from employees with industry know-how
Transparency in every step of the replenishment process through the Kanban Monitor