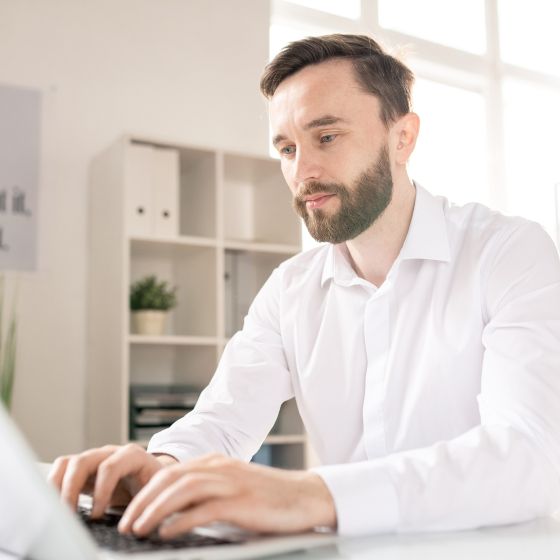 Produktspezialist Befestigungstechnik
Technische Rückfrage zu den Produkten auf dieser Seite? Jetzt Kontakt aufnehmen!
When guiding multi-spiral hoses for high-pressure applications (i.e. hydraulic hoses made of rubber with usually four to six internal wire spiral inlays made of steel) with fastening solutions made of plastic or metal that are widely used in the market, constant micro-vibrations at the contact points can lead to melting of the rubber outer cover, which accelerates hose wear.
STAUFF has developed type NRC-H hose clamps especially for this application. Long-term field tests at renowned original equipment manufacturers and tests in the STAUFF research laboratory confirm that the damage described above can be avoided by using this type of clamps.
In contrast to the type NRC pipe and tube clamps initially developed by STAUFF as a basis, the two-piece elastomer insert for type NRC-H hose clamps has been adapted to hydraulic hoses in terms of its design and elasticity.
It protrudes slightly beyond the clamp body on both sides and thus offers the hose a significantly larger contact surface. 
Other design features include large outlet radii and longitudinal ribs in the elastomer insert. They allow the compensation of changes in the diameter of the hose while at the same time ensuring gentle yet stable fixation.
×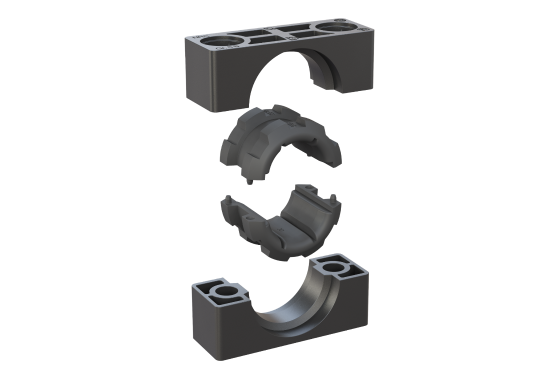 ×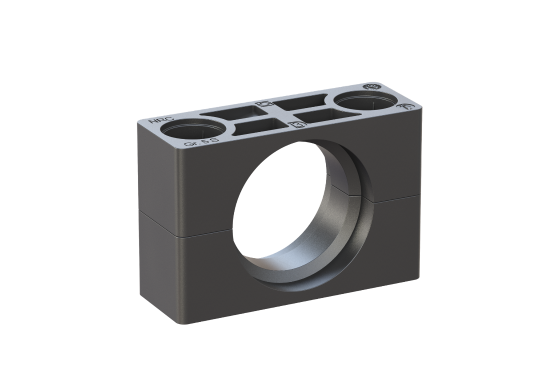 ×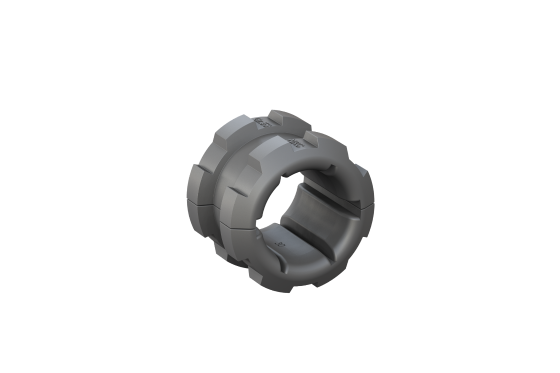 ×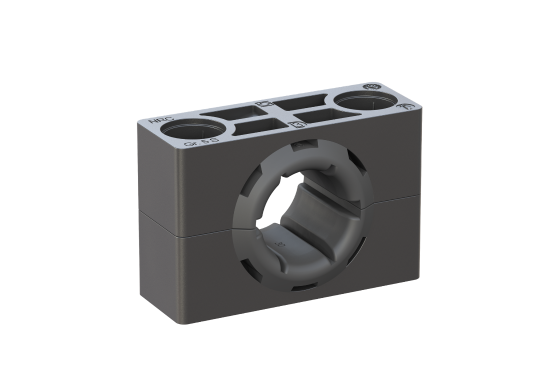 The result: The hydraulic hose retains a certain defined "freedom of movement" in the radial direction, so that its outer diameter can change to the necessary extent due to the pressure pulsation. Nevertheless, it remains securely in position, it is not "stressed" and the transmission of structure-borne noise is avoided.
STAUFF now offers this new development for multi-spiral hoses of the types 4SP and 4SH (according to EN 856) as well as R13 (according to SAE 100 R13) and R15 (according to SAE 100 R15) with outside diameters of 38, 52 and 55.7 mm in the STAUFF size 6S of the Heavy Series according to DIN 3015 (part 2). Other diameters are available from STAUFF on request.
Product Selection in the STAUFF Online Shop
Selected clamp bodies and elastomer inserts for type NRC-H hose clamps in the STAUFF Online Shop
As a matter of course, type NRC-H hose clamps from STAUFF are fully compatible with the conventional steel and stainless steel mounting hardware of the Heavy Series according to DIN 3015 (part 2) and can be easily replaced or retrofitted as required.
Especially for use in safety-critical areas, clamps can also be manufactured on request from flame-retardant materials in accordance with international guidelines and standards.
You might also be interested in the following news items: