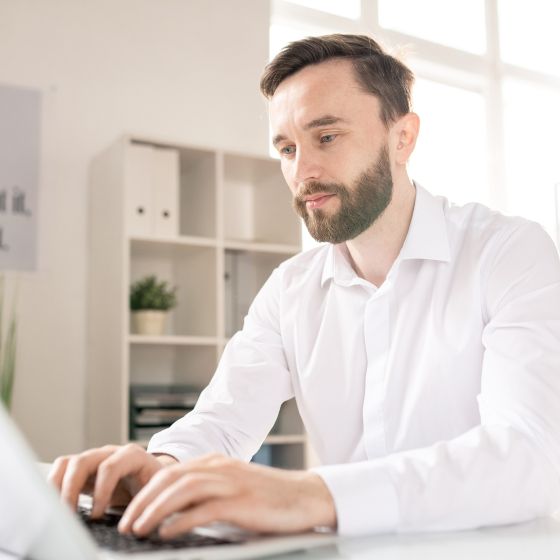 Product Specialist for Pipe, Tube and Hose Connectors
Any questions about the products on this page? Get in touch now!
Pipeline Couplings from the Market Leader
With the acquisition of Voswinkel GmbH, the largest German brand manufacturer of quick couplings for hydraulic and other industrial applications, in 2015, the STAUFF Group has become one of the leading manufacturers and suppliers of pipeline couplings with its QRC-RH series.
STAUFF is considered the international market leader in this field.
Quick couplings are part of STAUFF's extensive product range consisting of more than 50,000 standard components in 10 product groups. The range is completed by countless special variants and system solutions, which are implemented based on customer requirements or in-house developments.
Contents of this Page
Construction of Pipeline Couplings
Pipeline couplings are screw couplings, i.e. they are connected by screwing together the female couplings (fixed halves) and the male couplings (loose halves) of the couplings.
For fixed installation in a bulkhead, the female halves are is equipped with hexagon lock nuts.
Pipeline couplings are designed to shut off on both sides with flat-sealing valve units.
This ensures low spillage and reduces unwanted air inclusion to a minimum. Thus, subsequent bleeding of the hydraulic system is usually unnecessary.
Design of Pipeline Couplings
Pipeline couplings from STAUFF are available in five sizes with nominal diameters ranging from DN 10 to DN 25 (corresponding to 3/8" to 1").
The female and male halves of the couplings have a metric connecting thread and a 24° internal cone according to DIN 3861 (form W) as standard. These standard CEL and CES connectors enable the simple, safe and at the same time leak-free connection of the coupling halves with tubes and tube connectors as well as with hoses.
All commonly available connection sizes between 8L and 42L in the Light Series (CEL) and between 10S and 38S in the Heavy Series (CES) are available.
Alternative connection types (female imperial threads, SAE flange connections and others) and connection sizes are available on request.
STAUFF is the first manufacturer on the market to consistently use the proven STAUFF Zinc/Nickel surface coating for its range of pipeline couplings made from Steel. This provides reliable corrosion protection which far exceeds the standards previously available on the market and meets all applicable legal requirements.

Accessories for Pipeline Couplings
As a full-range supplier, STAUFF offers an extensive range of accessories for pipeline couplings including dust protection caps and dust protection plugs made of plastic (in various colours) and aluminium. These protect the female and male halves from dirt and damage caused by external influences. Suitable sealing kits for female halves consisting of O-rings and support rings are also available as spare parts on request.

Installation of Pipeline Couplings
With the help of the hexagonal lock nut, which is included as standard in the scope of delivery of the female coupling, they can be securely mounted as fixed halves on a system-side bulkhead panel. The incoming tube is connected as standard via a metric connecting thread and a 24° internal cone according to DIN 3861 (form W). Male couplings are also designed with this CEL / CES connections, which enables the connection with corresponding hose lines.
Pressure rating of Pipeline Couplings
Pipeline couplings from STAUFF are suitable for operating pressures of up to 420 bar. The special feature in contrast to other coupling types is that pipeline couplings have been designed to withstand these extreme static and dynamic pressure loads over the long term, even in the uncoupled state.
The thread of the screw couplings allows coupling at residual pressure (typically up to 20 bar) by hand or with the help of suitable tools.
The nominal sizes DN 29 and DN 25 of STAUFF pipeline couplings are designed with corresponding holes for the use of suitable hook spanners. These nominal sizes can also be secured with a split pin to prevent automatic loosening of the screw connection.
Coupling under full operating pressure is not recommended. 
Applications of Pipeline Couplings
Pipeline couplings are used, among other things, to connect the hydraulic systems of several self-propelled heavy-duty transport modules with each other. These modular vehicles, often referred to as SPMTs (Self-Propelled Modular Transporters), enable the transport of particularly large, heavy and bulky goods, machines and equipment in various industrial sectors.
For this purpose the individual modules can be combined with each other in length and width as well as with various accessories. The drive is usually provided by an external unit, the so-called power pack, which is also coupled.

Another typical area of application for pipeline couplings is in the field of deep drilling technology.
Competitive Comparison of Pipeline Couplings
Pipeline couplings of the QRC-RH series from STAUFF in the design supplied today are the result of continuous optimisation and further development.
Many of the competitor products offered on the market are the same as previous series of original STAUFF pipeline couplings, which have been technically outdated for many years and have been further improved several times in the meantime.
Their technical superiority is not only demonstrated by the sometimes considerable dimensional deviations – competitor products are often considerably larger and heavier – but also by the results of direct comparisons with competitors, which are carried out under laboratory conditions at the STAUFF Technology Centre in Werdohl Ehrenfeld (Germany).
Pressure Impulse Testing of Pipeline Couplings
In the pressure impulse test, STAUFF pipeline couplings comply with the manufacturer's maximum operating pressure of 420 bar. The dynamic pressure impulse test is considered one of the most meaningful test methods for determining the fatigue strength of hydraulic pipework components. It comes very close to practical use. Test specimens are subjected to a constantly changing load between almost pressureless state and a defined pulse pressure. Usually both coupling halves are tested in the coupled state (300,000 impulse cycles). The female and the male halves of the coupling are also tested separately from each other in the uncoupled state (100,000 impulse cycles).
While pipeline couplings from STAUFF exceed the pressure impulse test without any damage in all five sizes offered, the products of an Italian competitor, for example, fail completely in several sizes before the tests are even completed.
In addition to improperly chambered seals slipping out, these products also show serious mechanical damage to the valve unit (see illustrations), which can quickly become a danger to man, machine and the environment when in use.
In the case of one nominal size, when testing a male half in the uncoupled state, it is important to note that a failure occurs after less than 100 of 100,000 scheduled pulse cycles.
Burst Pressure Testing of Pipeline Couplings
The burst pressure testing is a destructive test method in which the test pieces are subjected to a continuously increasing pressure until they burst. The method is used to determine and check the strength and integral tightness of hydraulic line components.
For pipeline couplings from STAUFF, up to three times the safety factor of the operating pressure can be guaranteed in the coupled condition, i.e. the determined burst pressure exceeds the designated operating pressure by at least a factor of three. Female and male halves in uncoupled condition also provide similar results in the burst pressure test.
Flow Testing of Pipeline Couplings
Pipeline couplings from STAUFF are suitable – depending on the size selected – for a maximum flow rate of up to 500 l/min (for nominal size DN 25).
The "rated flow" is the typical volume flow for which the coupling has been designed. The rated flow is usually well below the maximum flow rate.
Flow tests under laboratory conditions at the STAUFF Technology Centre have shown that STAUFF pipeline couplings cause up to 35 percent lower pressure losses compared to competitive products at identical rated flows. In hydraulics, pressure losses are always synonymous with energy losses.