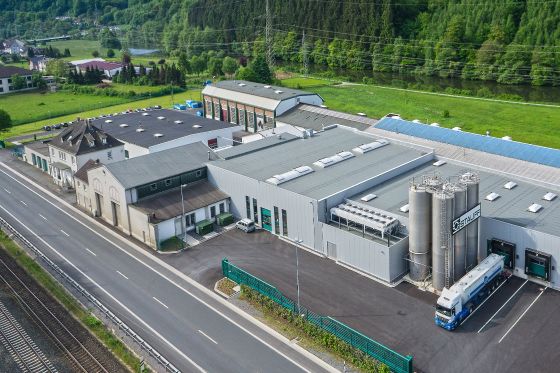 Germany
Production Site Plettenberg Ohle
Walter Stauffenberg GmbH & Co. KG
Lennestraße 2
58840 Plettenberg
The activities of STAUFF at the Plettenberg Ohle site focus on the manufacturing of components from the STAUFF Clamps product range. This includes injection moulding of clamps using thermoplastic elastomers such as polyamide and polypropylene as well as numerous other standard and special-purpose materials, subtractive manufacturing and processing of components made of plastic and non-ferrous metals, as well as manufacturing of fasteners made of standard steel and stainless steel in the stamping and welding shops. 
Plastic items are usually packaged directly at the Plettenberg Ohle site ready for shipping and selling and then sent to the nearby Neuenrade Künstrop logistics centre. Fasteners made of standard steel, such as cover plates or welded plates, usually undergo additional processing steps at one of the surrounding galvanising partner shops.
The factory is in a convenient infrastructure location close to the B326 main road connecting Werdohl and Plettenberg. Dedicated visitors' parking is provided directly next to the building.
Important information on suppliers, forwarders and other logistics service providers with respect to collecting and delivering goods can be found in the STAUFF logistics guidelines.

Start your virtual 360° tour through the Plettenberg Ohle plant
and the STAUFF production and assembly areas in Germany!
Living and Working in the Region
Other STAUFF Sites in the Region