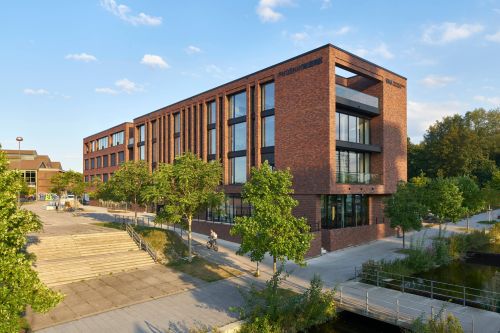 Germany
Head Office STAUFF Digital
Walter Stauffenberg GmbH & Co. KG
Phoenixplatz 3
44263 Dortmund
STAUFF Digital was launched in 2019. From PhoenixWERK in Dortmund Hörde – a site where steel was produced until only a few years ago – the digital division works on solutions for the current and future challenges of digitalisation in the worldwide STAUFF Group with a growing team headed up by the Chief Digital Officer (CDO).
The innovation and technology site in the South of Dortmund is situated only a few kilometres from the inner city. Bus stops for lines 441 (Hochofenstraße), 441 (Phoenixhalle) and the underground line U49 (Rombergpark) as well as Hörde train station can be reached on foot. The A1, A40, A44 and A45 motorways and the Ruhr region – Germany's largest conurbation – can be reached by car in no time at all using the B1, B54 and B236 main roads.
Plenty of visitor's parking is available in the surrounding streets.
Location Photo Dortmund: © Christian Eblenkamp
Other STAUFF Sites in the Region