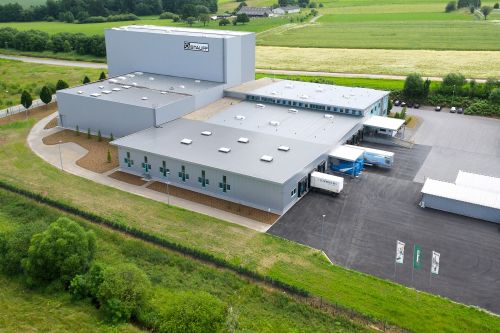 Germany
Logistics Centre Neuenrade Küntrop
Walter Stauffenberg GmbH & Co. KG
Wasserburgstraße 35
58809 Neuenrade
Only a few minutes by car from the headquarters of the company in Werdohl, on the Küntrop industrial estate in Neuenrade, the STAUFF logistics centre was opened on 1 April 2002 and subsequently expanded several times. 
The partially automated heart of STAUFF logistics on the European mainland features an automatic small-parts storage for more than 55,000 plastic containers as well as an automatic high-bay warehouse for more than 10,500 Euro pallets or pallet cages. This ensures the shortest possible order turnaround times with maximum capacity and flexibility with respect to delivery quality and adherence to delivery dates. A manual storage section, e.g. for large goods, completes the logistical options at the site.
In addition to order picking and packaging, the Neuenrade Küntrop site also handles the finishing and assembly of selected components.
The site is also home to the shipping office and the central customs office.
The logistics centre is not far from the main road B229 connecting Neuenrade and Balve. Dedicated visitors' parking is provided directly in front of the building.
Important information on suppliers, forwarders and other logistics service providers with respect to collecting and delivering goods can be found in the STAUFF logistics guidelines.

Start your virtual 360° tour through the Neuenrade Küntrop logistics centre
and the STAUFF production and assembly areas in Germany!
Living and Working in the Region
Other STAUFF Sites in the Region